Skyrim:Jod
The UESPWiki – Your source for The Elder Scrolls since 1995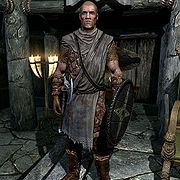 Jod, a Nord warrior, is the captain of the guard in Dawnstar. He is also the housecarl of Jarl Skald. He spends most of the day in the White Hall near Skald, only leaving the Jarl's side to go to sleep at night. His quarters are above the Jarl's quarters in the White Hall.
Jod wears Pale guard's armor and fur boots and gauntlets, and he carries a steel war axe, a Pale guard's shield, and some common items and gold.
Jod will move to Palace of the Kings with Skald if the Imperials take control of Dawnstar. He will be less angry toward you than others there but will still insult you.