Skyrim:Jonna
The UESPWiki – Your source for The Elder Scrolls since 1995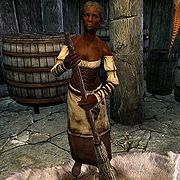 Jonna is the Redguard owner of Moorside Inn in Morthal. She rents out rooms for 10 gold per night and sells a small variety of items, including food and ingredients. Like most innkeepers, she may give you information about quests or bounty missions when talked to.
She seems to be reasonably friendly and she may greet the player with "Welcome to the Moorside. If you need anythin', I'll be 'round. Good to have a customer." or "There ain't much to offer, but if you wanna place dry to spend the night, I'll rent you a room."
On returning to the inn she will be even more friendly and remark "Good to have a customer! You need food or drink, you say the word." or even "Always good to see folk come back for more. You need a drink, you just let me know."
If you ask her why her business is slow she will reveal that it is actually far worse by remarking "Slow? No. It just ain't there at all. Few enough reasons to pass through Morthal before the war started. Now... Well, let's just say the front door doesn't get much use."
It may seem strange that she would set up a tavern in Morthal but if you inquire further she will tell you that "Runnin' an inn weren't my plan. But Falion decided to move here, so I joined him. Falion had his work to keep him busy, and I needed somethin' to do. So, here I am."
You may ask her about her resident bard to which she will reply with "Lurbuk? Fancies himself a bard. He pays, so I let him stay. If I had any customers, I'd be worried about him annoying them. But, well... Look around."
However, if you have come to the Moorside Inn for other reasons she will react to the question about Lurbuk slightly differently by saying "Ignore the Orc. He pays, so I let him stay." before adding that "I've tried to explain to Lurbuk that his "singin'" is gonna get his throat cut." Considering Lurbuk's fate it would seem that she was right...
If you ask her about learning more on the art of magic she will be quick to react with "You lookin' for Falion? Why don't you go bother those mages at their College in Winterhold and leave my brother alone?"
She will also give you the same cryptic warning as many people in town do by telling you that "You'll want to be careful travelin' at night. The marsh is a dangerous place."
Jonna wears a set of barkeep clothes and a pair of shoes. She is equipped with an iron dagger, and carries a selection of common loot and gold.
[edit]
Related Quests
Laid to Rest: Investigate a tragic house fire, and discover an insidious plot against the town.