Skyrim:Karthwasten
The UESPWiki – Your source for The Elder Scrolls since 1995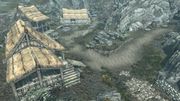 Karthwasten is a mining town in the Reach. Ainethach is the owner of the whole village and the two surrounding mines. Karthwasten is one of the few mines in the Reach that is not owned by a Nord.
It is divided into two areas: the town and the mine, known as Sanuarach Mine. The only entrance to the mine is located in the town. The entrance to Fenn's Gulch Mine is in the northwest end of town, by a smelter.
[edit]
Related Quests
Karthwasten can be added to your map by going to Dushnikh Yal and talking with the forge wife Gharol there to begin a quest involving Karthwasten. It can also be added by selecting its flag on one of the maps with flags pinned in it, which can be found in most castles and military camps.
One corundum ore vein is located east-northeast of the town, on a hill facing down to the river next to a circle of ancient stones.
Karthwasten is the only town in Skyrim that can be turned into a ghost town. No one but Emmon is essential and Emmon can be killed during the quest The Heart of Dibella. Once everyone is dead, the town will be empty forever.