Skyrim:Katla's Farm
The UESPWiki – Your source for The Elder Scrolls since 1995
This article is being developed as part of the Skyrim Houses Redesign Project. If you see this tag it means the article can still be improved. Please see the project page for guidelines.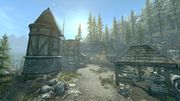 Katla's Farm is a small farm and stable along the Karth River, outside of Solitude. The farm is owned by Katla, who lives here with her husband Snilling, and their son Knud.
The farm features a cooking pot in the main room. There are two woodcutter's axes, an abundance of food and a small armory of weapons. There is some minor loot in the knapsack in the first story bedroom. At the northern part of the farm is Solitude Stables.
The Hearthfire plug-in adds a straw bed to the stables and a child named Blaise who works on the farm.
[edit]
NPCs Living Here
[edit]
Related Quests
NOTE:
Some radiant quests have a sizeable list of possible locations. These quests are not placed on individual place pages, and are instead listed at
radiant quest locations
.
The key to the farmhouse is carried by Katla, Knud, and Snilling.
If you sell wheat to Katla, the horses in the stable become free to take. However, you will not own them and they will walk back to the stable once you dismount.
If you buy a horse from Katla's Farm and the horse is killed, attempting to purchase a new horse from the same stable results in 1000 gold being deducted, and Geimund stating that your horse is "the one with the saddle", despite no saddled horse appearing at Katla's Farm. Instead, the new horse spawns at the Riften Stables. Travel there and mount your new horse. ?