Skyrim:Kesh the Clean
The UESPWiki – Your source for The Elder Scrolls since 1995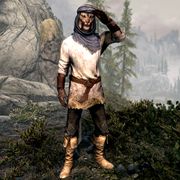 Kesh the Clean, a Khajiit spellsword, is a worshipper of Peryite who can be found at the Shrine to Peryite. He appears to have some skill with Alchemy, as he spends much of his time working at the alchemy lab present at the shrine. When he is not working on his Alchemy, Kesh can be found cooking at the local cooking pot. He will give you the list of items you need in order to speak with Peryite, and thus begin the Daedric quest The Only Cure.
When asked about Peryite, Kesh will say "He is the pus in the wound. Oh, proper ones curl their noses, but it's pus that drinks foul humors and restores the blood. I worship Peryite, yes, because sometimes the world can only be cleansed by disease."
Kesh wears a set of miner's clothes, a pair of gloves, a pair of boots, and an Alik'r hood. He is equipped with leveled twin daggers, where both can be up to Daedric quality. He also carries a leveled staff.
[edit]
Related Quests