Skyrim:Labyrinthian
The UESPWiki – Your source for The Elder Scrolls since 1995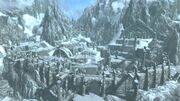 Labyrinthian is a sprawling Nordic ruin in Hjaalmarch, containing the entrances to several indoor dungeon areas.
Situated halfway up a mountain, Labyrinthian is the ruins of an ancient Nord city. The outdoor ruins contain the entrance to the Labyrinthian ruins as well as two other indoor zones: Shalidor's Maze and Lost Valkygg. The exterior is patrolled by up to four Frost Trolls, and there are a few chests in semi-hidden corners.
The main entrance to the indoor Labyrinthian is through the Ceremonial Door, which requires you to have the Torc of Labyrinthian. Therefore, the interior of this dungeon is inaccessible until the quest The Staff of Magnus is begun. That dungeon also has a second exit named Labyrinthian, Tribune located to the southeast, but a bolted door early on prevents using this as another entrance.
In the center of the ruins, a circular building contains the Wooden Mask that gives access to Bromjunaar Sanctuary.
It is approximately in the center of Skyrim, though slightly to the east. It is southeast of Morthal and north of Hamvir's Rest. The easiest way to get to the ruin is across the wilderness from Morthal, though it is possible to reach it from the south. Coming from the south you must travel north between Hamvir's Rest and Silent Moons Camp into a valley which ends at the ruin.
[edit]
Related Quests
[edit]
Notable Loot
The following loot can be obtained only after The Staff of Magnus quest is started:
Labyrinthian is also visited in Arena, noted for being a particularly large and confusing dungeon to navigate.