Skyrim:Largashbur Longhouse
The UESPWiki – Your source for The Elder Scrolls since 1995
This article is being developed as part of the Skyrim Houses Redesign Project. If you see this tag it means the article can still be improved. Please see the project page for guidelines.
# of Zones
2
Respawn Time
10 days
Console Location Code(s)
LargashburBasement, LargashburShagrolsLonghouse
Region
The Rift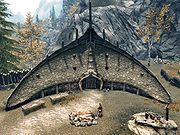 Largashbur Longhouse is a medium-sized house located in the Orc stronghold Largashbur just southwest of Riften.
The Largashbur Longhouse can be found in the Orc stronghold Largashbur near the entrance. When you enter through the front door you come upon a dining room kitchen area. If you turn left you come to the Orc chiefs room (whether it be Yamarz's room or Gularzub's room). There are two beds in the chiefs room and a chest. If you turn right from the dining room/kitchen you come across the rest of the Orc's rooms. There are four beds and a locked chest (expert), as well as another chest with leveled items in the room.
The other section of the longhouse, Largashbur Cellar, is behind it. You will see a trapped door behind the barrels, hay, and a chest with a leveled lock. When you go inside the trap door you will find racks of random items as well as a chest in the back of the room.
[edit]
NPCs Living Here
[edit]
Related Quests