Skyrim:Liar's Retreat
The UESPWiki – Your source for The Elder Scrolls since 1995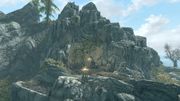 Liar's Retreat is an underground cellar which is located generally southwest of Solitude. It is northeast of Karthwasten, the nearest settlement.
Apparently, this used to be the site of a bandit bar before the Falmer tunneled in and attacked. Upon entering, you witness a raid of Falmer upon the last of the bandit residents. To the left of the main hall are three bedrooms. Inside of the first one to the left, a single, cowardly bandit remains alive from locking and barricading the door, by using numerous baskets, and ready to attack the next thing on sight. Another Falmer hides in the middle bedroom. Behind the bar is a kitchen filled with assorted food and yet another Falmer. The kitchen and storeroom connect to the bedrooms. In the first room to the right, the Falmer have tunneled their way from deeper nests which contain Falmer, chaurus, and some frostbite spiders.
Within the deepest chamber you can find the body of the barkeep, a Breton named Rahd, on an altar. Next to him, slightly underneath the altar, is The Longhammer, a unique warhammer notable for its 30% faster swing speed. When entering this area you will be attacked. Be prepared to take them out before proceeding.
When trying to leave the cellar after clearing it, you will be confronted by more aggressive bandits, including a bandit chief who remarks, "Hey, Longhammer, set us up with a round of... what in Oblivion happened in here?", indicating that Rahd was probably the barkeep of the establishment before the Falmer attack.
[edit]
Related Quests
Three corundum ore veins are inside the cave, and one is outside the cave to the south down the cliff.
While the Falmer will respawn, the Bandits will not.
The hammer may be under the table, not on it. It also may have fallen off the table, and be near the gate in which you entered the room.
If you clear the dungeon without taking the Longhammer, it will be repopulated with Falmer, but the warhammer and Rahd's body may be missing. ?