Skyrim:Lisbet
The UESPWiki – Your source for The Elder Scrolls since 1995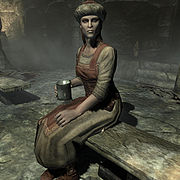 Lisbet is a Nord and the owner of the Arnleif and Sons Trading Company, a general goods store in Markarth. After her husband's death, she was handed management of the store. She also informs you that the store has fallen on hard times due to recent Forsworn attacks. One of their shipments is missing as a result of those attacks, including a Dibella Statue that is worth a substantial amount. Lisbet's Dibella Statue can be retrieved from a chest in an assigned Forsworn camp and returned to her for a reward.
She wears a set of merchant clothes, including a hat and a pair of boots. She wields an iron dagger and carries the key to her general goods store, as well as common loot and gold.
Lisbet is revealed to be a cannibal in the quest The Taste of Death, along with other individuals in Markarth. If you tell her that you know her at the dinner she will remark: "One of my customers? Did you know I inherited the store from my late husband? Shame what happened to him. He had such good taste." Attempting to ask her about her cannibalistic nature outside of the shrine will cause her to become worried and say: "Shh. You mustn't speak about such things away from the shrine. Only you and your dinner guests can know."
[edit]
Related Quests