Skyrim:Lod
The UESPWiki – Your source for The Elder Scrolls since 1995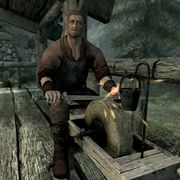 Lod is a Nord and Falkreath's resident blacksmith. He lives at his house located on the southern part of town. He states that he was once the personal guard for Dengeir of Stuhn and remains vastly loyal to him. He also claims loyalty to the Empire, which places him at odds with Dengeir's distrust of the Imperial Legion. Lod is a friendly man to talk to and is one of the blacksmiths that will run you through the Blacksmithing Tutorial.
Lod starts of his day by waking up at 8am to start working at his forge. He tirelessly smiths weapons and armor for a solid twelve hours, and finally stops work at 8pm. He will then relax in house for four hours before finally going to sleep at midnight. He sleeps for eight hours until 8am and repeats his schedule the following day.
Lod wears a blacksmith's apron and a pair of shoes. He is equipped with an iron dagger, and carries the key to his house and a selection of common loot and gold.
[edit]
Related Quests