Skyrim:Logrolf the Willful
The UESPWiki – Your source for The Elder Scrolls since 1995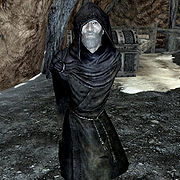 Logrolf the Willful is an elderly priest of Boethiah who got on the wrong side of Molag Bal, the Daedric Prince of domination, when he tried to cleanse Molag Bal's place of worship, a now abandoned house in Markarth. If you enter the abandoned house, Molag Bal will ask that you bring Logrolf to him at his altar so he can take revenge on him.
Logrolf wears hooded black mage robes and a pair of boots.
[edit]
Related Quests
Azzada Lylvieve mentions that a man named Logrolf the Bent saved him from the streets of Markarth. It is possible that this is Logrolf the Willful.