Skyrim:Lortheim
The UESPWiki – Your source for The Elder Scrolls since 1995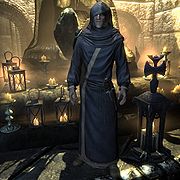 Lortheim is a Nord priest who lives and works in Windhelm at the Temple of Talos with his wife Jora.
He wears blue mage robes and a pair of boots. He wields an iron dagger in combat, and carries some common loot and gold and hooded monk robes.
Lortheim is a dedicated follower of Talos stating, "I've spent my life serving Talos. I don't plan to stop now, no matter what the Empire says." He continues to offer his opinion on the ban of Talos worship: "Talos created the Empire. You'd think they'd show him more respect." He hopes that one day the ban on Talos worship will end, stating, "Someday all of Skyrim will worship Talos openly, as we do here." If the player sides with the Empire during the civil war quests and kills Ulfric Stormcloak, Lortheim will question the future of Talos worship: "With Ulfric dead and the Stormcloaks gone, who will have the courage to champion the cause of Talos?"