Skyrim:Lynly Star-Sung
The UESPWiki – Your source for The Elder Scrolls since 1995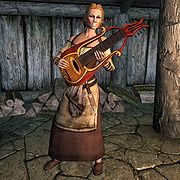 Lynly Star-Sung is a Nord bard working at the Vilemyr Inn in Ivarstead. She will take requests for five septims. If you use the persuasion option during dialog with her, Lynly will play a "special song" for free. When speaking to Wilhelm, she will state that she is unsure of her ability as a bard, and Wilhelm will boost her spirits by complimenting her on her skill.
Lynly's real name was Svidi. The dialog option to accuse her of being Svidi is not dependent on overhearing any conversation. When the player gets Lynly to confess, Lynly explains that she found poetry to her fiance Sibbi Black-Briar written by Svana Far-Shield. After confiding in her brother (named Wulfur according to Svana), he confronted Sibbi about the infidelity. Sibbi killed her unarmed brother, causing her to go into hiding.
[edit]
Related Quests
Oddly, confronting her about her real identity, even if you use intimidation to get her to admit it, doesn't affect the character otherwise. Her relationship status with you remains unchanged, there are no further choices past her telling you the truth that relate to it, and she will still wish you a pleasant journey upon parting, even if you threatened to beat the truth out of her.
Although Sibbi describes her as having black hair, she has blond hair.