Skyrim:Malborn
The UESPWiki – Your source for The Elder Scrolls since 1995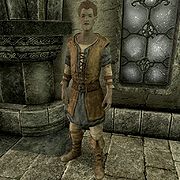 Malborn is a Bosmer serving boy who becomes a crucial informant for the Blades.
He is initally found in Solitude during the Diplomatic Immunity quest, offering to smuggle the player's equipment into the Thalmor Embassy, where he will return for your subsequent infiltration. However, he is inevitably caught and, depending on the player's actions, can either be killed, or escape the Embassy, complaining that it was a bad idea to participate in the plan.
If he survives the quest, after escaping the Embassy, he can be found in Windhelm, at the Grey Quarter bar called the New Gnisis Cornerclub, angrily berating the player for ruining his life and turning him into a fugitive. From this point, he will request the player to kill a Thalmor Assassin waiting for him outside of the city gates, so he may safely escape to Morrowind.
[edit]
Related Quests
If Malborn is killed anytime during the Diplomatic Immunity quest, the Find the Thalmor Assassin quest cannot be completed.
If any Thalmor see him after the party, they will attack, and likely kill him.
Once the player assists Malborn's escape to Morrowind, he will disappear permanently from the game.