Skyrim:Marise Aravel's House
The UESPWiki – Your source for The Elder Scrolls since 1995
This article is being developed as part of the Skyrim Houses Redesign Project. If you see this tag it means the article can still be improved. Please see the project page for guidelines.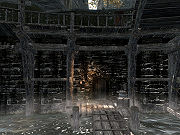 Marise Aravel's House is a house located on the lower level in Riften. It is near the Temple of Mara, and east of the entrance to the Ratway.
Opposite the door, there is a cooking pot in a fireplace with some firewood sitting next to it. To the right of the door are three barrels and a shelf with two garlic braids, two dried elves ears, and one dried frost mirriam hanging above it. A variety of food and ingredients are lying about. A copy of the Alteration skill book Reality & Other Falsehoods can be found in a basket on top of the bookshelf to the left of the fireplace. Next to the bookshelf is a dresser, with two rabbits and a pheasant hanging above it.
[edit]
NPCs Living Here
[edit]
Related Quests
NOTE:
Some radiant quests have a sizeable list of possible locations. These quests are not placed on individual place pages, and are instead listed at
radiant quest locations
.
There is a "Loot" shadowmark on the right door step. There is a chest with minor loot inside.