Skyrim:Maul
The UESPWiki – Your source for The Elder Scrolls since 1995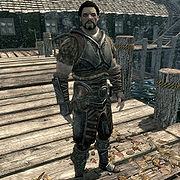 Maul is a Nord thief and the right hand man of Maven Black-Briar, the leader of the Black-Briar family. He will warn you not to cause trouble in Riften.
Maul wears a full set of steel armor, including a pair of steel gauntlets (two variants), and a pair of steel boots (two variants). He is equipped with a leveled dagger which can be up to Elven quality, and carries a key to the Black-Briar Manor, as well as a selection of common loot and gold.
He claims he left the Thieves Guild when it started going downhill, but he is technically still part of that faction. His brother, Dirge, is also a member of the Thieves Guild.
Should Maven be named Jarl when the Imperial Legion claim the Rift, Maul becomes Maven's housecarl.
The first time you get close to Maul he will automatically talk to you and warn you that the city belongs to the Thieves Guild.
[edit]
Related Quests