Skyrim:Misty Grove
The UESPWiki – Your source for The Elder Scrolls since 1995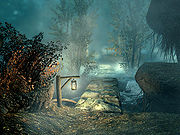 Misty Grove is a realm where Sanguine is holding a feast with some of his followers.
The Misty Grove is accessible through a magic portal found midway in Morvunskar. It is a garden with a single path leading to an elongated table with a feast laid out on it.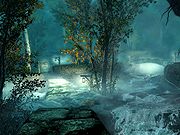 [edit]
NPCs Living Here
[edit]
Related Quests
If you return to Morvunskar after completing A Night To Remember, sometimes the portal to Misty Grove will still be accessible. Passing through it will end with you being stuck in Misty Grove, as Sanguine is no longer there to teleport you out.

This bug is fixed by version 1.4 of the Official Skyrim Patch.
On the PC, you can open the console and type tcl to toggle collision, and then fly under the map, just below where you enter Misty Grove, to find a door that will take you back to Morvunskar.