Skyrim:Moldering Ruins
The UESPWiki – Your source for The Elder Scrolls since 1995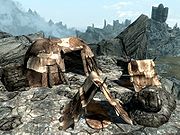 Moldering Ruins is a small cave overrun with vampires.
The exterior consists of two small tents, each with a bedroll, a fire, and one large tent. Several enemies will be around the camp (these will be death hounds and/or thralls in the daytime). Inside the large tent, on a table, are a poison, a leveled potion, some arrows, an iron dagger, and a bow. Underneath the table is a chest.
A trap door on the other side of the tent from the chest leads down into the Moldering Ruins themselves. It is quite small, consisting of a single short corridor lit by torches opening up into a tomb-like cave. Dead draugr are along the walls; the vampire resident(s) may raise these during combat. Another bedroll is on a ledge to the left of the first pillar, and there's a coffin each on the east and west walls. The boss chest is straight ahead, partly buried under some rubble. To the right of it you'll find some barrels and sacks on a ledge; to the left and above the chest is an urn. The last things of note are some ingredients and two burial urns to the right of the pillar as you leave.
[edit]
Related Quests
Note: This location is one of many potential targets for one or more of the radiant quests found on this page.