Skyrim:Molgrom Twice-Killed
The UESPWiki – Your source for The Elder Scrolls since 1995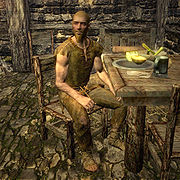 Molgrom Twice-Killed is a Nord thief and a member of the Thieves Guild. He is currently in the Riften Jail, a punishment from Brynjolf who disapproved of his methods. He wears only a roughspun tunic and a pair of footwraps.
Twice-Killed is a self-given name despite the fact that he hasn't even been killed once. He started using the title after a night out a few years ago when he was trying to get Vex drunk at the Ragged Flagon. He was stabbed after telling someone who was making too much racket to keep it down, but Vex saved him.
He will only talk to you if you are a member of the Thieves Guild.