Skyrim:Moth gro-Bagol
The UESPWiki – Your source for The Elder Scrolls since 1995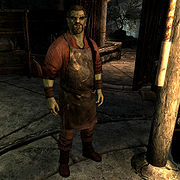 Moth gro-Bagol is an Orc and the personal blacksmith for Jarl Igmund of Markarth. He is the brother of the other Orc blacksmith in Markarth, Ghorza gra-Bagol. You can normally find him in his personal quarters in the Understone Keep: From the level just below the jarl's throne, walk north, then east.
Moth can use some help with a weapon he's creating for the jarl and asks you to retrieve a daedra heart. After completing this quest he becomes a potential candidate for marriage. He also makes you Blood-Kin if you aren't already.
[edit]
Related Quests
[edit]
Standard Merchandise
This is the merchandise found in Moth's merchant chest. These items are only available if purchased from the merchant; they cannot be pickpocketed or stolen. They are restocked every two days.
| Count | Item | Details |
| --- | --- | --- |
| 1 | Complete leveled set of heavy armor (unmatched, unenchanted; Ebony is best possible) | |
| 1 | Complete leveled set of light armor (unmatched, unenchanted; Glass is best possible) | |
| 1 | Complete leveled set of weapons (one of each type incl. bow except dagger; unenchanted; Ebony is best possible) | |
| 50 | Iron Arrows | |
| 10 | Iron Ingots | |
| 10 | Leathers | |
| 10 | Leather Strips | |
| ~2 | Leveled Armor (unenchanted) | Max 3 (3@75%) |
| ~4 | Leveled Arrows (batches of 15) | Max 5 (5@75%) |
| ~0 | Leveled Daggers (enchanted) | Max 2 (2@15%) |
| ~3 | Leveled Enchanted Armor | Max 4 (1@100% + 1@75% + 1@75% + 1@75%) |
| ~0 | Leveled Enchanted Jewelry | Max 2 (2@15%) |
| ~3 | Leveled Enchanted Weapons | Max 4 (1@100% + 1@75% + 1@75% + 1@75%) |
| ~4 | Leveled Ingots | Max 5 (5@75%) |
| ~4 | Leveled Ores/Charcoal | Max 5 (5@75%) |
| ~2 | Leveled Weapons (unenchanted) | Max 3 (3@75%) |
| 1 | Pickaxe | |
| ~8 | Silver Ingots | Max 15 (15@50%) |
| ~1 | Special items (armor or weapons; 33% chance of being enchanted) | Max 4 (1@100% + 3@10%) |
| ~19 | Leather or Leather Strips | Max 25 (25@75%) |