Skyrim:Mralki
The UESPWiki – Your source for The Elder Scrolls since 1995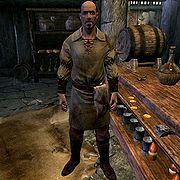 Mralki is a Nord food vendor living in Rorikstead. He is the owner of the Frostfruit Inn, and the father of Erik. He wears a set of barkeep clothes and a pair of shoes. He is equipped with an iron dagger, and carries a selection of common loot and gold.
He will greet you warmly with "If you need a meal or a room, I've got both." but he will soon tell you that "I only take real coin here, no handouts and no bartering."
He will also give you a bit of advice concerning the local residents by remarking "Bit of advice, folks here don't care for magic or those that use it. If you're intent on it, check at the College up in Winterhold. Either that or go see the Jarl's court wizard."
He is opposed to the idea of his son becoming an adventurer, much to Erik's dismay. This is mostly due to the fact that his son has little experience of the outside world; "That fool son of mine, Erik, wants to be an adventurer. He a good-natured lad, but he's got no idea how dangerous the world really is." This has not gone unnoticed by the local residents and even Mralki himself will say that "Some folk here will tell you I'm sheltering my boy too much, but I ask you, isn't it a father's duty to keep his children safe?"
[edit]
Related Quests