Skyrim:Mzinchaleft
The UESPWiki – Your source for The Elder Scrolls since 1995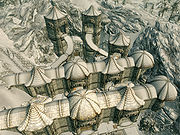 Mzinchaleft is a large Dwarven ruin located southwest of Dawnstar.
[edit]
Related Quests
[edit]
Mzinchaleft
Many broken Dwarven spiders and Dwarven sphere guardians litter the entrance corridors. Bandits have taken up camp in the ruins and are skirmishing with the functional Dwarven automatons. Deeper in, Falmer and chaurus have taken up residence. The final zone holds more automatons and a Dwarven centurion master. Behind the centurion lies the exit to the surface, and an entrance to Blackreach revealed by placing the attunement sphere into the nearby Dwarven mechanism.
[edit]
Notable Loot
The second zone contains a full set of Falmer armor, which is much like steel in quality, but with a different appearance.
The first zone contains a copy of the Speech skill book A Dance in Fire, v.7 in Maluril's room, which has an adept-level lock, the key to which is usually found on the guard near the door. You can also find his journal in this room.
Three chests can be found underwater in Mzinchaleft Depths.
The unique glass sword Grimsever is in the last room (Mzinchaleft Gatehouse), on a stone tablet next to the Dwemer centurion gantry. It is required for the quest Grimsever's Return.
The ruin is on the border between The Pale and Hjaalmarch. It is considered to be in Hjaalmarch by the game.
In the partially submerged area in Mzinchaleft Depths, there is a glitched out area behind one of the half-sunken buildings that can be reached by jumping and seam walking. It will appear to be water, but it is outside of the rest of the area. Continuing down will lead to an area that you can breathe in, and further exploration will sometimes cause the player to instantaneously pop into other random areas of Mzinchaleft. ?
In Maluril's room there's a ruined book on the table that will be marked as stolen.