Skyrim:Nepos the Nose
The UESPWiki – Your source for The Elder Scrolls since 1995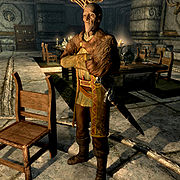 Nepos the Nose is an elderly nightblade who lives a luxurious life in Markarth. He works for Thonar Silver-Blood by "handling" any situations with the workers. According to Rhiada he "has a way with the workers".
At first glance he seems to be nothing more than a wealthy old man. However, upon investigating recent Forsworn attacks it is discovered that he is, in fact, responsible for the deaths of many innocent lives. He is a very high ranking member of the Forsworn and is even in direct contact with Madanach himself.
When you confront him with the knowledge of his scheme he will be surprisingly calm and remark "Ah, yes. You've proven to be a real bloodhound. Well, you've sniffed me out." He will then express some form of remorse when he says "I've been playing this game for almost 20 years. Sending the young to their deaths. All in the name of the Forsworn. And I'm tired. So tired." The reason for his confidence will then be revealed when he tells the player that "You were seen coming in. The girl at the door is a Forsworn agent masquerading as a maid." He will then show his confidence even more by saying "You aren't the first one to have gotten this far. You won't be the last." and he will then end the conversation by showing remorse once more when he says "I'm sorry, you're not leaving here alive."
He carries the key to his house, a large amount of gold and several rings and amulets which are usually worth a considerable amount of gold. He wears fine clothes and a pair of fine boots, and is equipped with a steel sword.
[edit]
Related Quests
[edit]
Spells
Nepos knows the following spells: