Skyrim:Nightingale Hall
The UESPWiki – Your source for The Elder Scrolls since 1995
Nightingale Hall is the home of the Nightingales.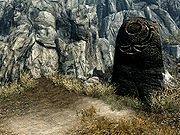 The first section of the Nightingale Hall is just a cave. However, going further into the cave reveals a main hall, living quarters, and a place to contact Nocturnal. The main hall has three podiums that give the player, Brynjolf, and Karliah Nightingale Armor for part of the quest Trinity Restored. The living quarters contains a bedroom and a training area. The final room is used to take the oath as part of the previously mentioned quest. This room contains a central hub and three pedestals with glyphs on them that are connected to the central hub via bridges.
[edit]
Related Quests
Early in the game, before Trinity Restored, the entrance is absent.
There are two "Safe" shadowmarks on birch trees leading to Nightingale Hall.
Although Karliah says she will, in some cases she never lives there or visits, unless you finish restoring the Thieves Guild to its former glory and become the Guild Master. In this case she attends your ceremony, then returns to Nightingale Hall, which will now be restored and upgraded.
[edit]
Gallery