Skyrim:Nura Snow-Shod
The UESPWiki – Your source for The Elder Scrolls since 1995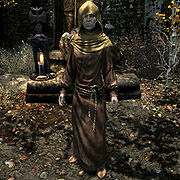 Nura Snow-Shod is a Nord priestess of Talos and wife to Vulwulf Snow-Shod. Nura trained her daughter Lilija to replace her as both healer and priestess. However, Lilija joined the Stormcloaks and was killed. Her daughter's death has increased her strong feelings towards both Talos and Skyrim. Nura carries with her a fairly valuable staff (either a Staff of the Flame Atronach or a Staff of Reanimation). She spends most nights and early mornings praying to the statue of Talos in Riften.
If you kill Nura, and you are detected, when you visit Riften after some time, Vulwulf Snow-Shod will come up to you and argue that either you apologize, or he will deal with you. If you refuse or just ignore, he'll attack you (you won't get a bounty if you kill him after he strikes you first).
If Nura is dead, she will nevertheless "come" to Vittoria Vici's wedding during the quest Bound Until Death. Her dead and naked body will spawn at the place she's supposed to stand.