Skyrim:Odfel
The UESPWiki – Your source for The Elder Scrolls since 1995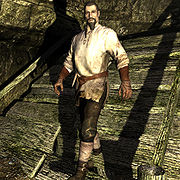 Odfel is a Nord miner that lives in Shor's Stone and is a potential marriage candidate. Odfel states that he used to be a soldier and acts with a general disdain and smugness towards others.
Odfel starts off his day by waking up at 5am and spending an hour resting in his house. At 6am, he heads off to Redbelly Mine to start work. He works at the mine for most of the day, tirelessly mining for twelve solid hours. At 6pm, he finally stops working and goes home to rest for an hour. At 7pm, he goes to the campfire in the middle of town. He spends four hours sitting around the fireplace and sometimes using the cooking pot. At 11pm, he heads back home to sleep for six hours, and repeats his schedule the following day.
Odfel wears a set of miner's clothes along with a pair of gloves and boots. He carries a pickaxe, the key to his house, a belted tunic, and a selection of common loot and gold.
[edit]
Related Quests
Odfel claims to have a unique pickaxe, Rocksplinter, that can "cut through stone like a hot knife through butter". However, he's just carrying an ordinary pickaxe; Rocksplinter is unobtainable in the game.