Skyrim:Olava the Feeble
The UESPWiki – Your source for The Elder Scrolls since 1995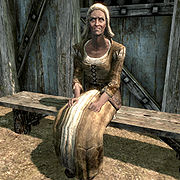 Olava the Feeble is an elderly citizen and a seer who lives in her house behind Breezehome in Whiterun's Plains District.
After completing a Dark Brotherhood assignment, Gabriella gives you the bonus item Olava's token. Talking to her when you have her token will have her grant you a reading of your future, and give the miscellaneous quest to Locate the Assassin of Old, who has bequeathed his possessions to you. If you approach Olava without the token, she will say that perhaps another time she will read your fortune.
The future she reveals hints at an event that occurs in the Dark Brotherhood.
Olava wears a belted tunic, a pair of boots, and a hat. She is equipped with an iron dagger, and carries a key to her house, as well as a selection of lower-class loot and gold.
[edit]
Related Quests
NOTE:
Some radiant quests have a nearly unlimited list of possible quest targets, or can be randomly initiated by nearly any NPC in the game. These quests are not placed on individual NPC pages, and are instead listed at
radiant quest NPCs
.
If spoken to again, after receiving the fortune starting Locate the Assassin of Old, she will say "By Sithis, but you are a persistent one. Haven't I told you enough?" This may imply that Olava herself was once a member of the Dark Brotherhood in her younger days.
In Breaching Security, Olava's token is required to receive a fortune reading from her. However, it is not a true quest item and may have been discarded or sold by accident.
She will sometimes lock herself inside her home for an indefinite time. If this happens, you will not be able to talk to her since she thinks you are trespassing.

A workaround would be to get her to attack you and lead her outside, then yield by sheathing your weapon.
Another workaround would be to enter and then exit her house, save your game and exit to the menu (or go to the dashboard of whichever console you are using) and load the save. She should walk out right after the load (assuming you did all of this around a time that she normally goes outside that is).
Waiting outside her house between 6pm to 9pm will sometimes make her appear by the door, giving you a few moments to speak with her before she enters the house.

Sometimes she will spawn underground. ?

This can be fixed by loading an earlier save.