Skyrim:Old Hroldan Inn
The UESPWiki – Your source for The Elder Scrolls since 1995
This article is being developed as part of the Skyrim Houses Redesign Project. If you see this tag it means the article can still be improved. Please see the project page for guidelines.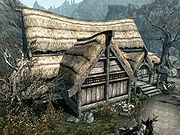 Old Hroldan Inn is a remote inn in The Reach where Tiber Septim once stayed. It is operated by Eydis and her young son Skuli. Eydis and Skuli are both food merchants, but only Eydis will rent you a room. The familial patriarch Firir is away, presumed missing. Leontius Salvius is a generic employee who spends all day working outside of the inn and offers no services, unless Eydis dies, in which case he fills in as the innkeeper.
Eydis will offer to rent you a room where she claims Tiber Septim slept on his first night after liberating Old Hroldan from the Witchmen of High Rock. The battle is famous for being where Hjalti Early-Beard (later Tiber Septim) earned the name Talos Stormcrown, when he used the Thu'um to break the settlement's defenses. The Two-handed skill book Battle of Sancre Tor can be found on the bedside table by Septim's double bed.
[edit]
NPCs Living Here
* Only while The Ghost of Old Hroldan is active.
† Becomes innkeeper only if Eydis is dead.
[edit]
Related Quests
[edit]
Standard Merchandise
This is the merchandise found in the inn's merchant chest. These items are only available if purchased from the merchant; they cannot be pickpocketed or stolen. They are restocked every two days.
If you take the road to the north into the mountains it'll lead towards the village of Rorikstead. Along the way you'll encounter a small camp with the lovers Karan and Talvur. Unfortunately, they've been killed (possibly by the predator nearby), but Karan's Journal indicates that they have a stash hidden right nearby in a stump. Later, a Shrine of Mara can be found here.
If you take the road to the south you'll encounter another crossroads that leads to Fort Sungard. Take the fork to the west to get to Markarth and you'll cross a bridge. Two hunters make their camp right at the base of a Shrine of Dibella.