Skyrim:Omluag
The UESPWiki – Your source for The Elder Scrolls since 1995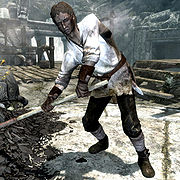 Omluag is a Breton citizen who lives in The Warrens and works at the Smelter in Markarth. He shares his room in the Warrens with Hathrasil, a co-worker at the Smelter.
He is quite nervous of his boss and he will often say "Can't talk. Mulush will beat me if I stop working." if you speak to him. If you ask about his boss he will tell you that "He's a damn tyrant. Always being goaded on by the Silver-Bloods to get more work out of us. They pay us next to nothing. We get beaten if we make a mistake, and where are our kind Nord rulers? What are they doing? Typical."
If you offer to help he will be surprised and say "You're going to try to talk sense into that Orc? I'll believe it when I see it."
After you have taken care of his little problem he will be overjoyed and remark "I don't believe it. Someone sticking up for us. Here. It's a week's wages for me, but you've earned every coin." He also becomes a potential candidate for marriage.
Omulag wears a set of miner's clothes along with a pair of gloves and boots. His inventory includes the key to his room in The Warrens and some poor loot. In combat, he relies on an iron dagger.
[edit]
Related Quests
[edit]
Dialogue
Omluag may be seen having random conversations with Hathrasil in Silver-Blood Inn:
Omluag: "Another foul day at the smelter."
Hathrasil: "Mmmhmm."
Omluag: ""Mmmhmm"? I've been working with you for over 10 years, and all you have to say is "mmmhmm"?"
Hathrasil: "Mmmhmm."
Omluag: "Sometimes I think we deserve these miserable lives of ours."