Skyrim:Onmund
The UESPWiki – Your source for The Elder Scrolls since 1995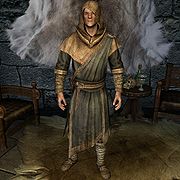 Onmund is a Nord sorcerer enrolled at the College of Winterhold. He will most likely be encountered for the first time during a lecture given by Tolfdir for the newly enrolled apprentices. Afterwards, he can usually be found during the day practicing spells in the Hall of the Elements until around 4pm where he will head back to his room in the Hall of Attainment.
Since a young age, Onmund has possessed an interest in the magical arts. This put him at odds with his family, who wanted him to lead a life more typical of Nord culture. When asked if it's difficult being away from his family, Onmund will reply: "Not at all. I consider it a blessing. My family was convinced coming here was a death sentence, or worse. It took years of insisting that this is what I'm meant to do." Despite this, he does admit he made a mistake in selling his family amulet to Enthir and wishes to have it returned, but Enthir refuses to go back on a deal. If the Dragonborn finds a way to get his amulet back, he is grateful and rewards them with friendship and the possibility of marriage.
His particular interest is Destruction magic, specializing in shock damage spells. In battle, he prefers to stay at range dual-wielding spells though if an enemy comes close he is not above using a Ward to defend.
Onmund wears novice robes of alteration, a novice hood, and a pair of boots.
[edit]
Spells
Onmund knows the following spells:
[edit]
Related Quests
Onmund incorrectly pronounces Psijic Order as the "physic order".
If you marry Onmund, he may greet you each time you come home with "We shouldn't have been disturbing Saarthal, no matter what you found down there." He repeats this line every few minutes.
Onmund, for unknown reasons, may immediately dislike the player even if he has not been harmed and all related quests related to him were completed (with the exception of The Bonds of Matrimony). ?
(DB)Onmund may use Talvas Fathryon's follower dialogue