Skyrim:Pale Stormcloak Camp
The UESPWiki – Your source for The Elder Scrolls since 1995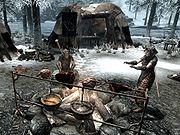 Pale Stormcloak Camp is a Stormcloak camp located in the Pale, west along River Yorgrim, southeast of Bronze Water Cave.
The camp is led by Frorkmar Banner-Torn, and acts as a base for Stormcloak soldiers in this region. Like most other military encampments, a quartermaster can be found here.
The camp is built around a fire with a cooking spit over it. Around the fire are three small one-man tents that the soldiers sleep in. Nearby is Frorkmar's tent which consists of a bed roll, a chest and an end table, along with a wood chopping block just outside. Next to the commander's tent is the quartermaster's workplace, which encompasses a table holding some weapons and armor, a small tent with more weapons, a workbench, an anvil and a grindstone. The largest tent, with the Stormcloaks' standard in front, holds a tactical map of Skyrim. Next to it is another large tent housing three wounded soldiers, a small table with leveled potions of fortify health and of restore health, and an alchemy lab just outside.
[edit]
Related Quests