Skyrim:Pilgrim's Trench
The UESPWiki – Your source for The Elder Scrolls since 1995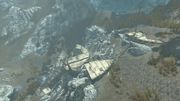 Pilgrim's Trench is a ship graveyard not far off of the northern coast of Skyrim.
This location is actually deep under water. It consists of four shipwrecks which lie on the bottom of the sea. The trench only becomes discovered if you dive down to the ships.
The main ship (the one that isn't broken in two) has two chests with mainly gold in them, five barrels with random food, one dresser with random clothes, and one wardrobe also with random clothes inside the cabin.
There are no underwater predators nearby. There is an abundance of salmon at this location.
It is a long dive. All races except Argonians will need a waterbreathing effect to explore this location. Explorers should allow 60 seconds of waterbreathing for a quick dive and three minutes for a leisurely perusal of the site.
You may learn what happened to the ships if you manage to summon Velehk Sain in the Midden. He is dressed like a sailor and tells you that while he was in Mundus he used to be a pirate. He offers to give you some items he obtained during that time, and he mentions that he and his companions sunk some Imperial ships. The treasure is well hidden close to Pilgrim's Trench, on an island that has a statue of Talos.