Skyrim:Reach Stormcloak Camp
The UESPWiki – Your source for The Elder Scrolls since 1995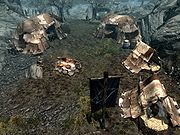 Reach Stormcloak Camp is a Stormcloak camp located along the Karth River in the Reach.
The Stormcloak soldiers camped here are led by Kottir Red-Shoal. The quartermaster found here will buy and sell weapons, armor and ingots. Two horses can be found near a wood chopping block and are free to be taken.
Approximately in the middle of the camp is a cooking spit hanging over a campfire. A large tent housing up to three wounded Stormcloaks can be found next to it, with an alchemy lab and two leveled potions of healing just outside it. Next to that tent is another large tent holding a chest, an end table, as well as a bed roll that the camp's commander uses to sleep in. Down the hill, near the horses is where you can usually find the quartermaster and a workbench, a grindstone and an anvil. Next to the fire are two small tents used by the soldiers; they are free for you to sleep in. Next to those is a large tent holding a tactical map of Skyrim with another small tent next to it.
[edit]
Related Quests