Skyrim:Reburrus Quintilius
The UESPWiki – Your source for The Elder Scrolls since 1995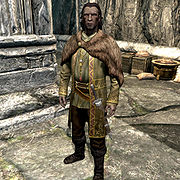 Reburrus Quintilius is a wealthy Imperial citizen living in Markarth. He will become the steward of Markarth if the Stormcloaks take the hold.
When first meeting Quintilius, he will greet the player very unpleasantly by asking in an irate, annoyed tone, "Why must you bother me outsider?"; He will go on to explain that Markarth is unwilling to trust outsiders, regardless of what dialogue option is selected and will refuse to speak to the player again by reiterating "Out of my way outsider."
He will refer to you as "kinsman" even if you are not an Imperial.
If the Stormcloaks gain control of Markarth, but the Imperial Legion regains it, he will relocate to the Palace of the Kings. As with most displaced people, his dialogue doesn't change.