Skyrim:Repairing the Phial
The UESPWiki – Your source for The Elder Scrolls since 1995
This page is currently being rewritten as part of the Skyrim Quest Redesign Project.
The page is being rewritten and checked in several stages. All users are welcome to make changes to the page. If you make a change that is relevant to the project, please update this template accordingly, and make sure you have observed the project guidelines.

[edit]
Quick Walkthrough
Talk to Quintus Navale about repairing the White Phial.
Find the items required:
Return to Quintus Navale.
[edit]
Detailed Walkthrough
A few days after completing the quest The White Phial, and after gaining full access to the Throat of the World, you will be approached by a courier who will give you a Letter from Quintus Navale. Reading the letter starts this quest. Your first task is to travel to Windhelm to see Quintus Navale.
When you arrive, he will say you will need to bring him three items to repair the Phial: Unmelting Snow, Mammoth Tusk Powder and one Forsworn Briar Heart.
The rather unremarkable patch of Unmelting Snow can be found at the Throat of The World. Mammoth Tusk Powder is in a large vat beside the giants at Stonehill Bluff, and it is possible to pick up the powder without aggravating the giant. Note that the Mammoth Tusk Powder is different from the alchemy ingredient Powdered Mammoth Tusk. A Briar Heart can be acquired from a dead Forsworn Briarheart and can be obtained from multiple Forsworn camps; one will be marked on your map.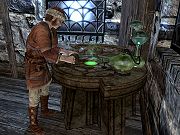 Once you have acquired all the items, return to Windhelm and speak with Quintus Navale, who will then quickly repair the Phial. Follow him upstairs to show the repaired Phial to Nurelion, who will promptly die knowing that his research wasn't in vain.
Once you have shown the Phial to Nurelion, you will be rewarded with the Phial itself. Unfortunately, the Phial will only regenerate one kind of liquid because Quintus Navale will not know how to recalibrate the phial.
You have a number of options for which kind of liquid the Phial will be able to regenerate:
You will be given The White Phial, which functions as a potion of the nature you chose. Drinking it moves it to the Miscellaneous section of your items menu as The White Phial (Empty). It refills after 24 hours. Attempting to use the empty phial duplicates it, but only one phial will fill after the time has passed.
Nurelion's dead body will disappear after some time. You can find his remains inside the coffin in the Hall of the Dead.
After Nurelion is dead, many of the contents of his store will be free for the taking, including many useful ingredients.
If you are on an assignment for the Thieves Guild involving The White Phial (the shop), complete it and turn it in prior to completing this quest. Nurelion's passing at the end of the quest, though not caused by you, will still trigger you to fail the job for "killing".
To meet our site's higher standard of quality, this article or section may require cleanup.
To leave a message about the cleanup for this article, please add it to this article's talk page
After you have started the quest, when you pick up a briar heart, the quest may not update, and no option to turn it in will appear when talking to Quintus. This can be caused by already having a briar heart in your inventory when you start this quest.

This bug is fixed by version 1.4.15 of the Official Skyrim Patch.
This can be fixed by going to jail and breaking out, and while retrieving your items from the chest leaving the briar heart behind, then going and obtaining another.
You can manually advance the quest by opening the console and typing setobjectivecompleted MS12b 50 1 before collecting any of the other ingredients. This will force the game to recognize that you've already collected a briar heart. If this doesn't work, use setstage MS12b 60 to advance the quest a bit further.

Sometimes talking to Quintus will not update the quest, and trying to talk to him again will yield a result of "this person is busy". ?
If you have initiated the quest to find Red Eagle's sword, the same Forsworn Briarheart might be the target of both quests. It will carry both Red Eagle's sword and a briar heart. However, even if you pick up both, it will only complete the Red Eagle quest. You will need to find a different Forsworn camp to complete the briar heart part of this quest. ?
The courier may fail to deliver the note from Quintus even after you've gained access to the Throat of the World, making this quest unavailable. ?
If you finish the quest with more than one briar heart in your inventory, the remaining hearts will still be marked as quest items, making them impossible to drop or store, although you can eat them or brew potions with them.

This bug is fixed by version 1.9.26.0.8 of the Official Skyrim Patch.
You can use the console command player.removeitem 3ad61 x to remove them, where x is the number of hearts you have in your inventory).
Once your inventory has been cleared of hearts, any new hearts you will pick will no longer be marked as quest items.

It is possible to receive more than one White Phial from Quintus if, after choosing what type of solution you want in the Phial, you quit the conversation and re-initiate it. ?
When you return to Quintus with all three ingredients, there may be no dialogue option to turn them in, meaning you are stuck with an uncompleted quest, the three quest items, and no White Phial.

This may happen because the Powdered Mammoth Tusk was not marked as a quest item, allowing you to drop or store it before you brought it to Quintus.
If you stored it, retrieve it and talk to Quintus again.
If you can't retrieve it, you can manually spawn it by using the console command player.additem 6bc10 1.

The quest may not start if you already have a briar heart in your inventory when attempting to talk to Quintus.
[edit]
Quest Stages
Repairing the Phial (MS12b)
Stage
Finishes Quest
Journal Entry
0
10
Nurelion's assistant, Quintus, believes he's found a way to repair the White Phial.


(Objective is assigned): Speak to Quintus Navale

30
Nurelion's assistant, Quintus, believes he's found a way to repair the White Phial, and has enlisted me to track down some materials for him.


(Objective is assigned): Retrieve the Unmelting Snow
(Objective is assigned): Find some Mammoth Tusk Powder
(Objective is assigned): Take a Forsworn Heart

60
(Objective is assigned): Return to Quintus Navale
100
I helped repair the White Phial in time for Nurelion to see it before he died.