Skyrim:Repentance
The UESPWiki – Your source for The Elder Scrolls since 1995
This page is currently being rewritten as part of the Skyrim Quest Redesign Project.
The page is being rewritten and checked in several stages. All users are welcome to make changes to the page. If you make a change that is relevant to the project, please update this template accordingly, and make sure you have observed the project guidelines.

[edit]
Quick Walkthrough
Help Illia reach the top of Darklight Tower.
Defeat Silvia on the top of Darklight Tower.
[edit]
Detailed Walkthrough
[edit]
Darklight Tower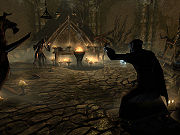 You may be pointed toward the tower by a comment from a Riften town guard. If so, they will mark it on your map for you.
As you first enter Darklight Tower, Illia will kill a witch and immediately run at you. Despite being dressed as a necromancer she'll explain that she is trying to leave the tower forever because of its evilness. Her mother Silvia is trying to perform a ritual to become a Hagraven and has tasked her with finding a willing human sacrifice. Instead, she found you and decides that you can help stop her mother's vile plan.
[edit]
Climb the Tower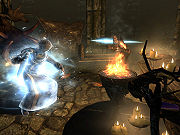 If you agree to help her, Illia will start ascending the stairs, but will typically wait for you to catch up. On each level of the tower you'll encounter a witch or hag and an assortment of creatures such as skeevers, frostbite spiders, or trolls. This quest doesn't level very well, making it easy to breeze through at high levels. Despite being casters, witches and hags are very weak and Illia, unlike them, is a very capable frost mage. On the third floor, there will be a gate and Illia will warn you that a hagraven lays ahead. They are a little tougher than the other denizens of this tower with moderate fire spells, but nothing too overwhelming. Pulling the lever will open the gate and allow you to continue the quest and slay the hagraven. You may notice a locked door requiring a key on the way up, which Illia has and can be pick-pocketed. However, it's probably not worth the effort to pickpocket her or kill her for this, as the room only contains a couple of shelves with wooden bowls and plates, a cupboard with several potions, and a few barrels with food items in them. Once the quest is over, you can take Illia's key freely if you ask her to be a follower anyway.
Proceeding into Darklight Chambers, the plan continues to stay the same - climb the tower, kill witches. One slight kink is on the first floor of this zone will be a master-locked door. You can either pick it or go out of your way one room to kill a Hagraven and get the key. Once you've either picked or unlocked the door, Illia will resume the ascent to the top of the tower - which isn't far.
[edit]
The Demise of Silvia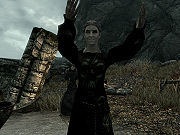 Illia explains that she'll present you to her mother as the sacrifice and then kill her rather than let her turn into a monster. The top leads back out to Skyrim and an open area where her mother has prepared the ritual. Illia will begin the charade and Silvia will ask you to sit on a chair in order for the ritual to begin. At this point you can either outright kill Silvia or trust that Illia isn't merely playing you for a fool and sit in the chair. If you do sit in the chair, Silvia will begin the ritual and Illia will make good to stop her mother. Silvia is fairly tough, compared to the residents of the tower, but no match for you and Illia combined. Illia will thank you and allow you to keep her mother's Staff of Hag's Wrath. If you talk to her again, you can ask her to be your follower.
To meet our site's higher standard of quality, this article or section may require cleanup. The user who placed this here had the following concern:
this section needs to be merged with the walkthrough
To leave a message about the cleanup for this article, please add it to this article's talk page
You can find several items through out the tower including powerful soul gems, rare alchemy ingredients, and five chests (two augmented, one of which is master-locked). There also three skill books to be found:
When the mother was already killed before Illia initiates a conversation, Illia will start the conversation regardless and waits indefinitely for a response.
If you pick the lock from the top instead and enter via Darklight Chambers, you can fight your way down to Darklight Tower. In there, however, you will eventually come to a gate you can't open from that side. The only way is to turn back, while killing some monsters that have respawned. Upon re-entering Darklight Chambers, Illia will suddenly be at your side (even if you've never met her) and the game will treat you as if you were mid-quest.

The quest can still be completed the normal way, but if you want to be there from the beginning, set the stage to 0 (setstage dunDarkLightQST 0) and re-enter from the bottom floor (Darklight Tower) instead. If you entered from the top you probably already killed Illia's mother as well; to fix that, see the previous point.

If you go through the stages, go through the door to where the initiation is to start, and a hagraven and a hag in Illia's Mothers place Illia will continue into battle alone killing both of them. If you encounter this Illia's Mother will not appear, not starting the initiation process, she will then return to the top door (If you try to interact with her she will be a blank npc not offering options) ending the quest as unfinished.
[edit]
Quest Stages
Repentance (dunDarklightQST)
Stage
Finishes Quest
Journal Entry
10
I met a witch named Illia in Darklight Tower. She was supposed to obtain a sacrifice for her mother to perform an evil ritual, but rebelled. Illia wants me to help her get to the top of the tower so she can stop her mother.


(Objective is assigned): Help Illia reach the top of Darklight Tower

20
I met a witch named Illia in Darklight Tower. She was supposed to obtain a sacrifice for her mother to perform an evil ritual, but rebelled. Illia wants me to help her get to the top of the tower so she can stop her mother. At the top of the tower, Illia told me her plan. She planned to present me as the sacrifice to her mother to gain the element of surprise.
25
(Objective is assigned): Defeat Illia's mother at the top of Darklight Tower
35
(Objective is assigned): Defeat Illia's mother at the top of Darklight Tower
40
I met a witch named Illia in Darklight Tower. She was supposed to obtain a sacrifice for her mother to perform an evil ritual, but rebelled. Illia wants me to help her get to the top of the tower so she can stop her mother. At the top of the tower, Illia told me her plan. She planned to present me as the sacrifice to her mother to gain the element of surprise. We attacked an killed her mother. Illia told me to take her mother's staff from as a reward.
50
60
The following empty quest stages were omitted from the table: 0, 1, 5, 8, 9, 12, 14, 15, 16, 18, 30, 55