Skyrim:Revyn Sadri
The UESPWiki – Your source for The Elder Scrolls since 1995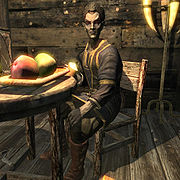 Revyn Sadri is a Dunmer warrior living in the city of Windhelm, in the Gray Quarter. He owns and runs a small pawn shop, Sadri's Used Wares.
His shop is usually open from 9am to 8pm. After he closes up, he will head to the New Gnisis Cornerclub for dinner.
If asked whether anything in the shop is stolen, he will ask you to complete a favor for him. If you do the favor, he will become a potential candidate for marriage, in addition to providing Speech training. If you instead rat on him, he will greet you by calling you a "miserable wretch", but otherwise will continue to offer services and act as if you had never accepted the quest.
[edit]
Related Quests
[edit]
Dialogue
Upon first greeting you, which then turns into random greeting: "All my goods are legitimate, which is more than I can say for some."
When asked if nothing in the shop is stolen: "Of course nothing in here is stolen. Only a careless, shameful, idiotic fetcher would do something as stupid as to buy pilfered goods.... Oh by Azura, I've made a terrible mistake. I bought a gold ring, and Viola Giordano has been missing a ring that looks just like it."
Tough luck: "You're telling me."
Offer to return the ring: "It's not that easy. She'd go to the Jarl if she knew I was even remotely involved. You have to get it to her some other way. Look, it's dangerous, but if you sneak the ring into her house. Put it in a dresser or something. I will make it worth your while."
Asking about supplies: "I've scrapped this collection together by whatever means I could. I do some business with the trade caravans, and I've picked up a number of items from adventurers like yourself. A few intrepid souls even brought some items back from Morvunskar, the fort southwest of the city."
Possible greeting/goodbyes during his quest:
"Sneak that ring back to Viola before we both get caught."
"Don't let Viola catch you in her house."
When you have planted the ring: "Have you taken care of that... little problem?"
Reporting success planting the ring: "Thank you. Thank you! Azura's Prophecy always guide you to fortune. Speaking of fortune. Here. Everything I earned from my last shipment. It's yours."
Greeting after his quest, completed in his favor: "Good to see you. Finally someone useful is around."
Greeting after his quest, completed in Viola's favor: "Something you need, you miserable wretch?"
Requesting Speech training: "Well, you've come to the right place."
When giving a random gift: "You're not tiresome like the rest of the people I have the displeasure of dealing with on a regular basis. Here. I'd like you to have this."
When you wear an Amulet of Mara: "Look at you. Wearing an Amulet of Mara. Are you saying you're available?"
If he's interested: "You are pleasant company, more than pleasant. And what about you? Would you... be interested in a life together?"
If you are interested: "Good. The two of us then. All of Skyrim should get ready to stand aside."
If you haven't talked to Maramal yet: "Now shouldn't you be off arranging our wedding day? Don't keep me waiting."
Upon stopping the wedding: "You're abandoning me? Me? I never want to see you ever again."
After the wedding:
"This is the happiest day of my life. Where should we live? My home is your home now, of course."
"I'll see you at home then, don't keep me waiting!"
Random after marriage dialogue:
"You and I, we're the only people in Skyrim worth loving. That's what I think."
"What do you need love? Ask anything."
Asking him to cook: "I should be asking you the same question, but all right. I'll cook. Here, try this, and don't you dare ask for another one before tomorrow."
When you ask to move:
"Oh really? And where were you thinking?"
"If that's what you want. I'll see you there, soon."
Goodbye: "Leaving? Take the world by storm, dearest."
If you do marry him, and opt to move in with him, he may no longer have the option to offer vender services, and will not offer training services, although everything in his shop will be marked as owned by you.
His shop may be locked during normal business hours and entering counts as trespassing, although Revyn is standing at the counter. Wait for a day to get him to reopen his shop. ?
After doing his favor, the option to marry him may not appear, even if you are wearing the Amulet of Mara. ?
After moving him into a new home he may stop making you Home Cooked Meals. ?
The dialogue option to invest in his business will still be there after you have invested in it. This is due to a mistake in the scripting for the investor quest linking him to Whiterun instead of Windhelm.