Skyrim:Roggvir
The UESPWiki – Your source for The Elder Scrolls since 1995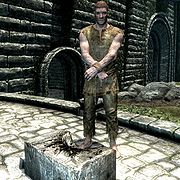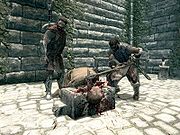 Roggvir, a Nord warrior, is a citizen of Solitude who worked as a city guard.
According to his sister Greta, he opened the city gates to allow Ulfric Stormcloak into the city when he first came with the hidden intention of challenging the then-High King Torygg. After Ulfric killed Torygg in the challenge, he tried to escape the city, and Roggvir again opened the gate for him. Accounts of the incident vary wildly among the citizens; most claim that he was an accomplice in the murder, while Greta maintains that he was doing his job, and had no way of knowing what Ulfric had done.
Upon entering Solitude for the first time, Roggvir will be publicly executed near the main gate. With his final words, he justifies Ulfric's murder of the king, stating that the challenge was posed and conducted in accordance with Nordic tradition, and therefore was not a crime.
After the execution has taken place, an amulet of Talos can be looted from Roggvir's corpse, which can be returned to Greta in a radiant quest related to his death.
[edit]
Related Quests
Roggvir's death is scripted, making it impossible to save him. If you start a fight with the guards and Roggvir survives for too long, he will be teleported to a test room and be killed by the resident NPC.
If you first enter Solitude through the side gate, you may miss the execution. Regardless of whether or not you see it, dialogue options with NPCs will appear as if you had witnessed the execution.
After the Battle for Solitude, the Stormcloak soldiers will have different dialogue about Roggvir's death depending on whether or not the city was visited before starting the quest.
Picking up the amulet before receiving the quest may make the quest un-completeable, and the amulet cannot be removed from your inventory. Any further Amulets of Talos you pick up stack and add weight. This can be avoided by waiting to loot Roggvir's body until you are directed to (although you still get no reward from the quest).