Skyrim:Runa Fair-Shield
The UESPWiki – Your source for The Elder Scrolls since 1995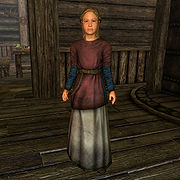 Runa Fair-Shield is a Nord child, and the only female child in the Honorhall Orphanage in Riften. She claims that she is "strong and quick" and willing to do any chore, and will beg the player to adopt her whether it is possible for them to do so or not.
Like the other children, she is elated at the assassination of Grelod the Kind. After the assassination, she hints at a possible dark future when she says "Kill one person, and you can solve so many problems. I wonder at the possibilities."
She wears child's clothes and a pair of shoes. She carries a selection of food and toys, and a small amount of gold.
If she is adopted and living in Breezehome in Whiterun, she, like your other adopted children, may say "Braith is a big meanie. She keeps telling Lars 'n me what to do. I don't wanna play with her anymore." or "I've played with Lucia in the park today. I feel sorry for her."