Skyrim:Samuel
The UESPWiki – Your source for The Elder Scrolls since 1995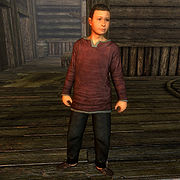 Samuel, an Imperial child, is one of the children living in Honorhall Orphanage in Riften. He is a friend of Aventus Aretino and will be overjoyed if you kill Grelod the Kind.
He wears child's clothes and a pair of shoes. He carries a selection of food and toys, and a small amount of gold.
If you ask him about Grelod, he will say, "Sometimes, when she goes to her room to work or sleep, I slip out for a bit. Noontime, every day - that's when I hit the streets. A boy's gotta make a livin' right?"
When you ask Samuel to tell you about Grelod, he will skip to the next dialogue after he says, "slip out for a bit".
After you agree to adopt him, Samuel may never leave the orphanage, instead saying that he needs to collect his things and say goodbye each time you try to talk to him. ?

To fix this, stand inside your house and use the console command prid 19de7 to select him, followed by moveto player to move him to your location.