Skyrim:Senna
The UESPWiki – Your source for The Elder Scrolls since 1995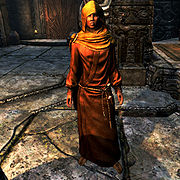 Senna is a Breton priestess at the Temple of Dibella in Markarth. She spends all of her time in the entrance area of the temple at the top floor. She will inform the player that "The temple is closed, but you may still receive your blessing from Dibella."
She is quite forward and will flirt with the player, and even becomes marriagable after completing the Heart of Dibella quest.
She wears hooded monk robes and a pair of boots, and is equipped with an iron dagger. She carries a key to the temple of Dibella, a key to the inner sanctum, and a selection of common loot and gold.
[edit]
Related Quests
[edit]
Spells
She is able to cast the following spells:
Patch 1.5 sets Senna as essential. Although the patch notes the change as essential "until her part in A Night To Remember is completed," she is simply set as essential for the entirety of the game.
If married, you can still get the Lover's Comfort buff, even though she doesn't sleep. Instead you will get the buff anytime you sleep in an owned bed, in a house she resides in.