Skyrim:Severio Pelagia's House
The UESPWiki – Your source for The Elder Scrolls since 1995
This article is being developed as part of the Skyrim Houses Redesign Project. If you see this tag it means the article can still be improved. Please see the project page for guidelines.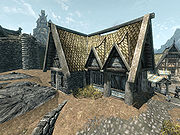 Severio Pelagia's House is a small house in Whiterun.
It is home of Severio Pelagia, the owner of Pelagia Farm. It is located between the Drunken Huntsman and the market stalls.
It consists of one area only, Severio Pelagia's House.
[edit]
Residents
[edit]
Severio Pelagia's House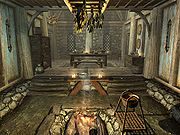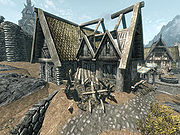 The house is merely used by Severio Pelagia for sleeping, as he tends his farm all day long and spends the evenings at the neighboring tavern. The front door opens to a lit fireplace with a cooking pot and, to the left, a small table with a salmon steak and a tomato. A ledge above holds a goat cheese wheel and four red apples.
A few steps leads up to the dinner table which is dressed to four and has an apple pie, a leg of goat, a cheese wedge and a bottle of alto wine. Left of the dinner table are a set of shelves with a piece of venison and three bottles of nord mead, two bottles of alto wine and a sack with food. Adjacent to the shelves is a dresser with clothes and another bottle of alto wine on top.
A door to the northwest leads into the small bedroom with Severio's owned bed and a wardrobe with lower-class clothes. The room to the northeast has a wardrobe with clutter, a bowl with a gourd and a small study with a few books, Mysterious Akavir, Darkest Darkness, The Cabin in the Woods, Horker Attacks and Biography of Barenzah, v3. On the table sits a bottle of Nord mead and a long taffy treat.