Skyrim:Shrines
The UESPWiki – Your source for The Elder Scrolls since 1995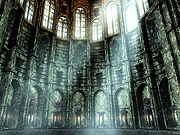 Skyrim is dotted with shrines to the Divines (including Talos). Daedric Shrines are listed separately. They are often accompanied by a large statue, although the shrines themselves are obelisks or sculptures small enough to fit on table tops. They can be activated to receive a blessing, which will cure all diseases and grant a blessing from the specific deity while removing any existing blessing. They are found in the temples within various cities, inside some dungeons, and in unmarked locations throughout the wilderness.
There is a shrine to each of the Aedra in the Temple of the Divines in Solitude (except a shrine of Talos, which later becomes available if Solitude is taken by Stormcloak forces).
[edit] Furnishing OptionsHF
With the Hearthfire plug-in installed, you can build each of these shrines in the cellar of your house.
For more information on the Blessings, see the Blessings page.