Skyrim:Siddgeir
The UESPWiki – Your source for The Elder Scrolls since 1995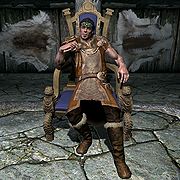 Siddgeir is the Jarl of Falkreath and an Imperial Legion supporter.
Siddgeir claims to have deposed his Uncle Dengeir due to his old age, but Dengeir believes it was actually Imperial machinations. Siddgeir, though, is more lazy than anything and uses his position as Jarl in order to reap the benefits. He leaves all actual work to his steward Nenya, and his housecarl Helvard. Siddgeir is also unscrupulous having some type of working relationship with local bandits. If the Stormcloaks win the war, Siddgeir is removed as Jarl, and can be found in the Blue Palace of Solitude.
He wears a refined tunic, a pair of fur-lined boots, and a jade and emerald circlet. He is equipped with an iron dagger, and carries a key to the longhouse, as well as a selection of higher class loot and gold.
[edit]
Related Quests
Even if the player has become the Thane, Siddgeir may continue to greet them by saying, "Something you need, you miserable wretch?" This is the result of a negative disposition towards the player, possibly caused by completing the Dark Brotherhood contract on his Housecarl Helvard. Doing quests for the Jarl to become Thane after completing that contract seems to counter this and raises Siddgeir's disposition towards the player.
When befriending Siddgeir, he will demand Black-Briar mead "fresh from Riften." However, it does not matter where you get the mead from (even the nearby Dead Man's Drink), or how long it has been inventory.
Siddgeir may become stuck in a "Foe" relationship with you if you've killed his housecarl for the Dark Brotherhood (even if you did it secretly). If so, he'll never grant you Thaneship.