Skyrim:Silent Moons Camp
The UESPWiki – Your source for The Elder Scrolls since 1995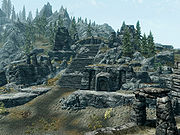 Silent Moons Camp is a bandit hideout located northwest of Whiterun.
[edit]
Exterior
Outside of the barrow, a group of bandits have set up camp.
The most notable feature of the camp is the unique Lunar Forge, located at the top of the barrow. Notes On The Lunar Forge describes the forge. Although four leveled Lunar weapons are found in the area, the Lunar Forge cannot actually be used to make such weapons.
Two are outside at the top of the barrow, near the forge.
One is on the bottom of the bookcase to your left in the small room that exits to Skyrim.
One is outside, just above the exit on the second floor.
The Smithing skill book Light Armor Forging is also found near the forge.
[edit]
Silent Moons Camp
The Silent Moons Camp interior is a small artificial cave-like structure that harbors a two bandits and, during the related quest, a boss-level bandit. The room at the end, behind a locked door, has a ladder that leads outside to a chest and a gated exit.
[edit]
Related Quests
NOTE:
Some radiant quests have a sizeable list of possible locations. These quests are not placed on individual place pages, and are instead listed at
radiant quest locations
.
South of the barrow is the head of a dry stream bed; on the east side of the bed are two Silver Ore veins.
Two Moonstone Ore veins are located 410 ft north of the camp.
One Gold Ore vein can be found on a small hill to the northeast, in the direction of Halted Stream Camp.