Skyrim:Silus Vesuius's House
The UESPWiki – Your source for The Elder Scrolls since 1995
This article is being developed as part of the Skyrim Houses Redesign Project. If you see this tag it means the article can still be improved. Please see the project page for guidelines.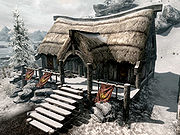 Silus Vesuius's House is the home of Silus Vesuius and a museum dedicated to the Mythic Dawn.
The house is located on the north side of Dawnstar, close to the coast line. Mythic Dawn banners decorate the exterior of the house. The interior has been devoted to a museum of the infamous Mythic Dawn cult, with three adept-locked display cases that contain:
The house also contains a cooking pot with some harvestable rabbits, an (owned) bed and a wardrobe with some leveled gold and clothes.
[edit]
NPCs Living Here
[edit]
Related Quests
If you visit Silus Vesuius's House before receiving the Museum Pamphlet, the Mythic Dawn banners are not visible. They only appear after the museum has opened.
There is a fourth display case that contains the Scabbard of Mehrunes' Razor. After Silus takes it during the quest Pieces of the Past, the display case is empty and can't be opened.
If you use any form of weapon or destruction-type spell on the tattered page of the Mysterium Xarxes, it will transform into an immobile bucket.