Skyrim:Skaggi Scar-Face
The UESPWiki – Your source for The Elder Scrolls since 1995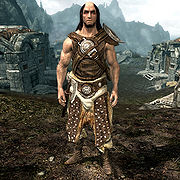 Skaggi Scar-Face is a Nord miner who is in charge of Left Hand Mine. He is the husband of Sosia Tremellia. He is quite worried about the threat of a Forsworn attack and he will tell the player this by saying "Damn Forsworn. Only a matter of time before they hit here, too." During the related quest, he will ask you to clear out some Forsworn from Kolskeggr Mine.
He cares little beyond the money he can make from mining and he will often tell you that "Don't have much to say unless you're here to mine metal." It also becomes clear that he doesn't allow any trouble in his mines after he warns you that "I'm in charge of Left Hand Mine. You cause trouble, you answer to me."
He seems to be making a good deal of money from the mines due to the war and he will be quick to tell you that "Left Hand Mine deals with iron, the perfect metal to dig with a war going on."
You may ask if he gives work to which he will reply with "That I do. If you want to grab a pickaxe and dig up some iron, feel free. I'll pay for anything you bring me." He will also entice you to mine ore by telling you that "Mining is hard work, but we pay a fair price for any ore you dig up."
You can ask if Pavo would like some help dealing with the Forsworn and he will tell you that "I'm sure Pavo would be grateful, and we'd all rest a little easier." before warning you that "But that's nonsense. You can't handle a group of Forsworn by yourself. If their axes don't get you, their magic will."
[edit]
Related Quests