Skyrim:Skyborn Altar
The UESPWiki – Your source for The Elder Scrolls since 1995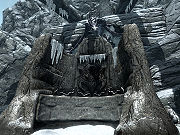 Skyborn Altar is a mountaintop dragon lair located in the mountains east-southeast of Morthal.
The path to Skyborn Altar is located just south of Labyrinthian; it can also be reached from the south by traveling between Silent Moons Camp and Dustman's Cairn. From either direction the dirt path is marked by a stone head to the east, and to the south of the last (or first) stone arch.
The word wall here teaches part of the Frost Breath shout. The wall is guarded by a leveled dragon which is resting on the wall. There is a dead adventurer slumped against the right-hand side of the wall, a chest is located behind the pillar to the far left, and there is a burial urn a few feet north of the chest, hidden in the rocks.
[edit]
Before the Dragons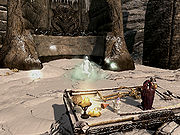 Before the dragons' return, the wall is guarded by a wispmother and her wisps. In front of the wall is a sacrificial table, and on it is a shrine of Akatosh, a dead skeleton, two leveled soul gems, a leveled potion, and a leveled weapon.
[edit]
Related Quests
NOTE:
Some radiant quests have a sizeable list of possible locations. These quests are not placed on individual place pages, and are instead listed at
radiant quest locations
.