Skyrim:Solaf
The UESPWiki – Your source for The Elder Scrolls since 1995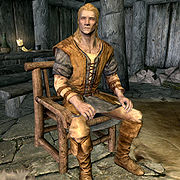 Solaf is a Nord lumberjack and the proprietor of Gray Pine Goods. He lives there with his brother Bolund who runs the Falkreath lumber mill. He has 750 gold available for bartering and he will buy and sell any type of item as he is a general merchant.
When you first speak to him he will cheerfully greet you with "Well met. Unlike my brother, I've no dislike of strangers. Met lots of 'em while I was a Stormcloak." Asking him about the fact that he was a Stormcloak will cause him to remark "I was once, but not any more. I was wounded in a skirmish up near Windhelm. This was years ago, mind you." He will then go on to say "Now, maybe I don't pick up a blade in Ulfric's name no more, but I still hold with his ideals. Skyrim is Nord land, and we ought to rule it. We don't need no help from the Empire on that count."
He is very paranoid about potential theft, and when exiting conversations he will usually remind you "Steal anything from my shop, and you'll regret it."
He wears a set of farm clothes and a pair of boots. He is equipped with an iron dagger, and carries a key to his store, as well as a selection of common loot and gold.