Skyrim:Sondas Drenim
The UESPWiki – Your source for The Elder Scrolls since 1995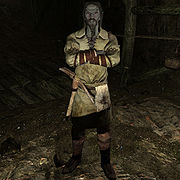 Sondas Drenim is a Dunmer food vendor and a resident of Darkwater Crossing who works at Goldenrock Mine. Upon first talking to him, he will mention the fact that many workers are getting sick. He expresses his concern by saying "We're getting to the point where the tunnels are getting deep into the rock. People complain of bad coughs and foul air. I've seen this before. We need some medicines to combat the ore dust. I was about to send a message to Windhelm for aid."
The player may then offer their assistance. Sondas will request the player take his note to Quintus in Windhelm. Once delivered, Quintus will reward the player, but Sondas will never mention it again. However, he will become a potential candidate for marriage.
According to Hrefna, Sondas takes care of her if her mother is away. He is also worried about Derkeethus and will warn the player by remarking, "Those falls... dangerous place. Derkeethus thought he could find some good fish in the pools. Haven't heard from him in a long while."
He has a huge amount of experience working in mines and he will be quick to tell the player that, "This mine is only a few years old, but I've been digging up ore for over a century."
It also becomes clear that he does not care about his homeland when he tells the player that, "I keep hearing stories about Morrowind. Sounds like a wretched place."
[edit]
Related Quests